curaJOY is a non-profit dedicated to improving families' emotional wellness.
curaJOY comes from the communities we serve, driven by the challenges we witness in and around our lives. We improve the accessibility, effectiveness, and equity of emotional wellness support for families worldwide through cross-sector collaboration, merging proven social and mental health support with technology and entertainment, thus developing the next generation of successful adults and inclusive communities.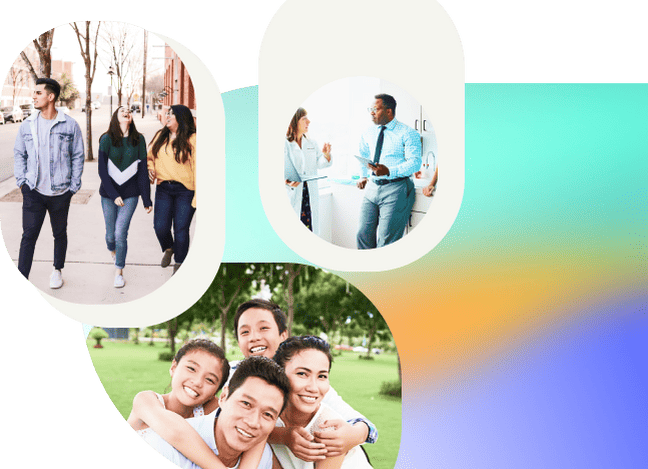 Derived from the Latin word "cura," meaning healing and diligence, curaJOY's namesake aptly captures its work– Bringing a joy that heals, and experiencing joy through healing.
Meet The Team
Experienced business & tech leaders, subject matter experts, and product teams, driven by our shared challenges.
Caitlyn Wang
Chief Joymaker, Founder
Caitlyn is a global business leader who has worked and parented in the US and Asia. For over 20 years, she has led marketing, product development, and executive management in the audio/video industry with teams in China, Taiwan, and the US to bring products from concept to market for companies like Harman, Acer, and Amazon. Since founding curaJOY, Caitlyn has brought together leaders from academia, healthcare, finance, and tech to tackle the global mental health crisis.
Caitlin Marcus
Program Director, Board Certified Behavior Analyst
Caitlin is a neurodivergent Board Certified Behavior Analystwith 15 years of experience in the prevention and treatment of challenging behaviors, and a former clinical director working in autism and developmental disabilities, early intervention, caregiver and staff training. She has worked with hundreds of families in the Los Angeles metropolitan area, focusing on areas with low economic resources and large immigrant populations.
Dr. Marc Lanovaz
Program Co-Director, Board Member
Marc is a professor and head of the undergraduate program at the École de Psychoéducation at the University of Montreal. Dr. Lanovaz has been pioneering the use of AI and machine learning in behavioral health from the very start, and is a frequent speaker and subject matter expert at related conferences. He brings his data science and behavior analysis expertise to support parents and professionals with wellness and inclusion solutions. As the first BCBA-D in Quebec, Marc has been instrumental in the adoption of Applied Behavior Analysis there.
Dr. Anthony Pajot
Executive Board Member
Anthony is a bi-racial entrepreneurial, passionate, and highly results-oriented leader who leads Sanofi's Vaccines R&D as Global Project Head, Research Portfolio & Strategy. With over 22 years of experience, he has held various commercial & scientific leadership roles in big pharmaceutical companies (Sanofi, E.Lilly) & research institutions worldwide, and a strong track record of success in the healthcare industry. Anthony challenges the status quo to drive innovation and achieve stretched goals. He has a passion for diving with sharks in various spots in the world.

Temitope Durotoye
Executive Assistant
Temitope Durotoye is a technologist and digital marketer with over seven years of experience inspiring hope in young people in Africa, and mentoring refugee youths in the UK. He is passionate about education technology, andworks to ensure that young people in marginalized communities can access learning resources. He enjoys music, writing, and exploring new places. At CuraJOY, he is excited about using technology and data science to improve young people's social and emotional skills, and ultimately, equalize the global disparities in education and economic opportunities.
Daniel Vaughn
Technical Contributor
is the Director of Corporate IT at BlockFi with a decade of experience in organizations ranging from startups to Fortune 500. Before BlockFi, Daniel led an End User Computing organization at the New York Stock Exchange's parent company Intercontinental Exchange, where he built and scaled global teams responsible for various user-facing technologies. Daniel is passionate about leveraging technology to enable the success of people and businesses. He is revamping curaJOY's internal tech and coaching our Minijoy Ambassadors.
Rafay Shaw
User Experience and Interaction Designer
Rafay graduated with a B.S. in Computer Science and combines human interaction with visual aesthetics and bridges creatives with engineers. As an avid gamer, he aims to create exceptional digital experiences, bringing a whole new fun side of behavioral health that is yet unseen. Under Caitlyn's mentorship, Rafay collaborates with volunteer designers graduating from Rhode Island of Design, Carnegie Mellon, and the likes worldwide.
Dr. Joanne Tsu
Scientific Contributor, Chinese Content
Dr. Tsu is a licensed clinical psychologist from Taiwan, a mother, researcher, and adjunct professor whose interest in child cognitive development early in college, and received multiple grants from the Ministry of Science and Technology in Taiwan to further research in the field. Her research and expertise include psychological assessment, psychotherapy, brainwaves, hypnosis, and neuropsychology.
Machine Learning Scientists
User Experience and Interaction Designers
3D Animators, Illustrators
RE-IMAGINE NONPROFIT INNOVATION
We are you!
We help families raise emotionally healthy kids through inclusive digital programs that promote personal growth and healthy relationships. Our proactive social and mental health approach involves the whole family and builds upon strengths.
curaJOY partners with clinicians, educators, parents, and kids–worldwide to develop scalable, inclusive programs that provide unlimited, evidence-based behavioral health support. We believe in behavioral healthcare's value and champion both clinicians and families. curaJOY seeks immediate improvements while advocating for healthcare reforms and other macro changes like increased behavioral health funding and livable wages for providers.
Families-First
Families' emotional wellness is interconnected. Solutions that only target children are limited in their outcomes. curaJOY engages the whole family, integrating seamlessly into their lifestyle and the existing workflows of clinicians and schools. We engage youth in our product development and testing–with an emphasis on making programs FUN so they stick 🙂 We reframe the benefits of social-emotional learning to ensure all families can benefit regardless of language, race, or income.
Root-Cause
Building social and emotional wellness is an effective preventative measure for crime, unemployment, depression, substance abuse, and other problems. We combat disparities in healthcare and education by addressing low social determinants of health and creating opportunities to practice the skills we teach, such as impulse control, problem-solving, friendship-building, decision-making, and resilience.