Behavioral Health Equity
What does equity have to do with emotional wellness? Our health is influenced by five main factors: genetics, behavior, environmental and physical influences, healthcare, and social factors. Issues relating to equity—race, education level, income, etc.) contribute to the social factor of health, also often referred to as SES social determinants of health). It may come as a surprise that something as insignificant as the house a person lives in can have an effect on health, but such is the causal relationships in life. Childhood enrichment and parents' involvement boosts education, education determines career, and career determines community and what resources a person has at their disposal.
There is no one-size-fits-all approach to effective care: language, ethnicity, lived experience, culture, income level, immigration status, and an individual's community have a tremendous impact on their ability to seek, obtain, and stick with treatment. Attaining equity means elevating marginalized people by preventing adverse childhood experiences, helping families break harmful cycles, and endowing them with the knowledge, tools, and resilience to cope with stressors in healthy ways.
Social determinants of health like race and socioeconomic status have a significant impact on people's access to and quality of behavioral healthcare. These inequalities trickle down into educational outcomes, career success, life expectancy, crime and substance abuse.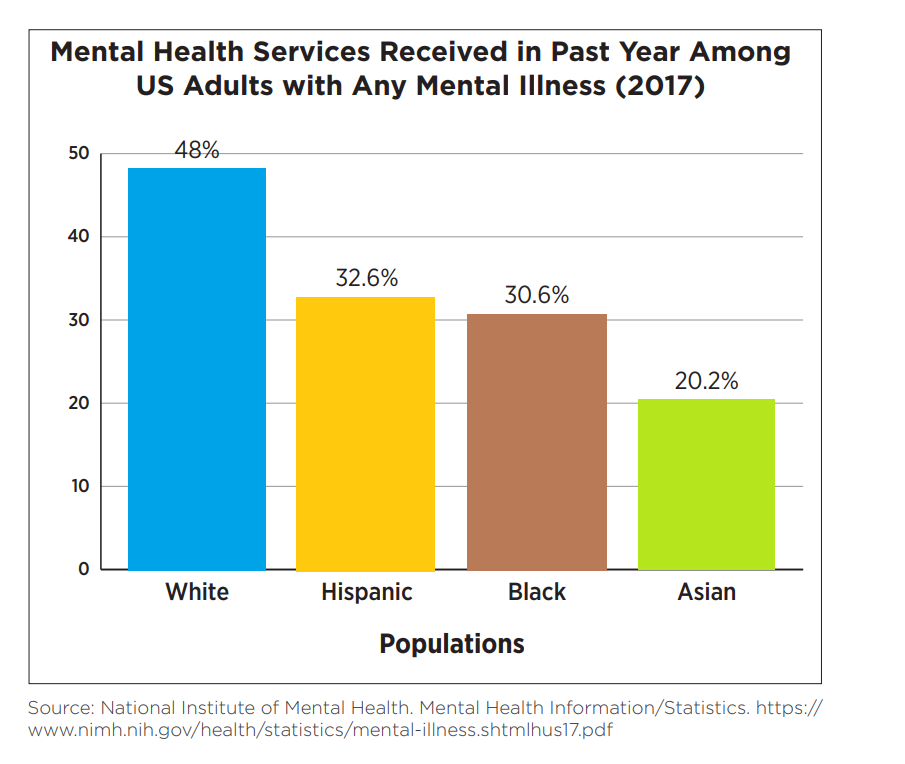 Disparities in Access to Behavioral Healthcare
Social-emotional and behavioral health services are not widely available to the general public, and there is a critical shortage of behavioral healthcare providers. For example, as it stands, the behavioral health workforce needs to double in order to serve autistic children in need. People with low income, Asians, Pacific Islanders, BIPOC, and those living in rural areas are more likely to experience additional barriers to receiving treatment.
are the least likely to seek or receive care out of all populations.
in academic performance from social-emotional education
Educational Outcomes
When Hispanic/Latino and BIPOC children enter the school system, they are significantly more likely than white children to be referred for special education evaluations, more likely to be placed in separate classrooms or schools, and more likely to be disciplined in harsh, exclusionary ways which result in lost instructional time and increases the chances of being held back a grade, dropping out, and/or entering the justice system. Symptoms of trauma, language barriers, poor parental and family mental health can appear as behavioral and social challenges. Without a culturally sensitive lens, many students are placed in special education inappropriately in the first place, leading to poorer educational outcomes.
Provider Diversity
Rebuilding trust in health care remains an issue, particularly among racially and ethnically diverse populations. Helping families establish trust with their psychologists and behavior therapists is critical to a healthy and collaborative relationship. Trust between them relates to a refined patient experience, health outcomes, and the patient's perception of the care they receive. Studies show that barriers to this therapeutic alliance exist, regardless of the behavioral therapists' level of education, training, and techniques.
Can you understand me?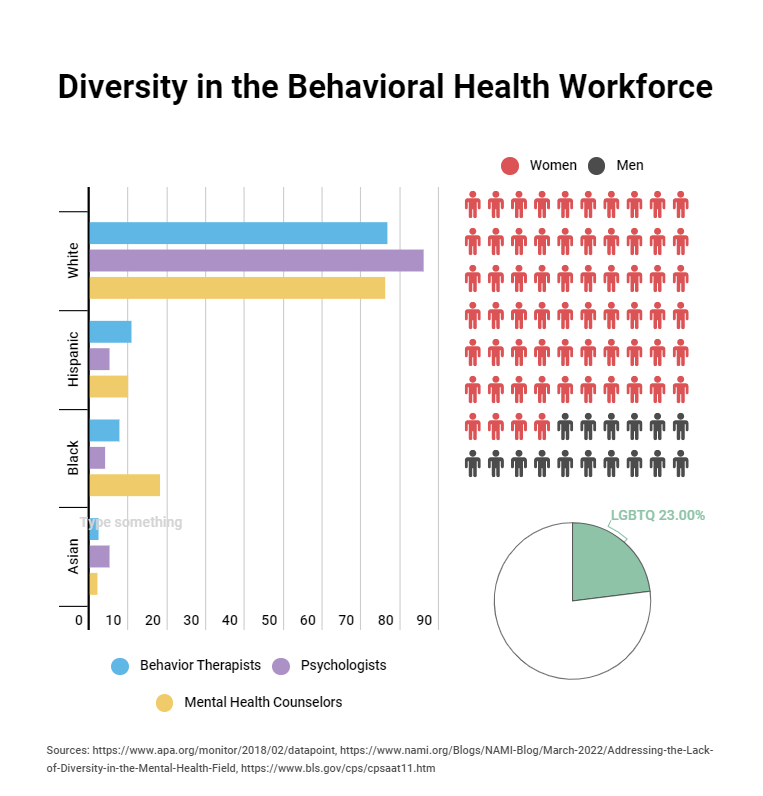 Repercussions of Behavioral Healthcare Inequity
The "achievement gap" is the longstanding pattern of white and Asian students outperforming BIPOC and Pacific Islanders academically. This gap exists before students even start school: they enroll with different readiness levels based on the resources available to their families and communities. Social-emotional learning–children's ability to regulate emotions, make healthy decisions, establish good relationships, and set goals–has been shown to boost academic performance by 11 percentile points.
loss to the US economy per student dropout
Students drop out for many reasons, including becoming a parent, having a job with a conflicting schedule, too many school absences, and poor grades. Each student that drops out costs the US economy $272,000 across their lifetime due to lower tax contributions, a higher reliance on state healthcare and assistance programs, and higher criminal activity.
Healthy social-emotional development predicts academic and career success.
Start Early – Proactive Prevention
It's easier to build healthy children than fix broken adults. Students in preschool enrichment programs that involve and support their parents have better academic and social skills, require fewer special education services, and are less likely to be retained a grade. The prevention of ACEs protects against future criminal activity and involvement in the justice system, gang involvement, and substance abuse problems. Lack of positive support from parents, schools, peers, and the community is associated with gang affiliation, which is associated with substance use, criminal activity, and incarceration. These outcomes perpetuate cycles of oppression, violence, and poverty.
Children Lean on Their Parents' Wellbeing
Parental mental health is of the utmost importance – the next generation literally depends on it. Feeling emotionally connected to stable, mentally healthy parents is the single most significant protective factor in children's mental health. Nobody can pour from an empty cup: in order to break cycles of generational trauma perpetuated by unhealthy family dynamics, parents need emotional support and tools for themselves. Learning to cope with stress in healthy ways improves the quality of life for adults, and healthy adults are better able to nurture their children's development. Research shows that learning positive parenting skills and creating a supportive and nurturing environment guards children against ACEs; the fewer ACEs experienced in childhood, the better the outcome. Teachers who use praise and positive reinforcement for prosocial behavior had reductions in disciplinary actions which disproportionately affect BIPOC.
Adverse Childhood Events (ACEs)
ACEs or traumatic events (such as having a parent with a substance abuse problem, living in poverty, having an incarcerated parent, etc.), are the enemy of healthy development. Outcomes are successively poorer with each additional ACE, with 1/4 of adults having experienced 3+ ACEs: these have lasting negative effects on brain development and physical health and are associated with increased risk of addiction, injury, STIs, teen pregnancy, involvement in sex trafficking, and substance abuse disorders. The fallout of trauma costs hundreds of billions of dollars each year.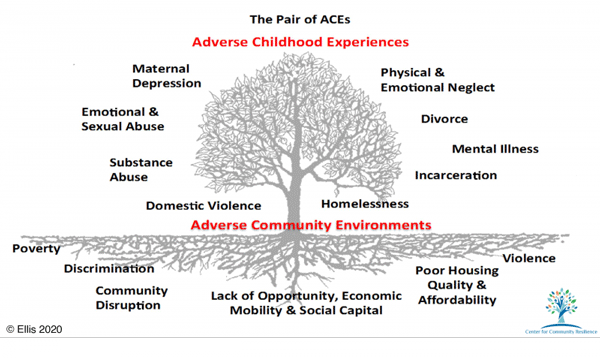 Education, Social Emotional Development and Overall Life Outcome
How curaJOY levels the playing field
Multilingual and Culturally sensitive Support
Behavioral Healthcare Equity Leads to Overall Equity
The US Surgeon General has identified a major deficit in cultural competence across existing behavioral health and education providers. For those from whom English is a second language, having a non-white provider who speaks their native language can be crucial to treatment success. For example, according to the APA, only 5.5% of therapists report the ability to provide treatment in Spanish, though Hispanics make up the largest ethnic minority in the US (18% of the population). curaJOY has created the first social-emotional learning interactive game in Chinese and is designing a new digital outreach program to be inclusive: it's multilingual, culturally sensitive, and always learning to improve. We focus on digitally delivered programs so families can access support privately and safely in their homes.
Diverse Providers
curaJOY makes behavioral health support accessible to a greater and more diverse audience
79% of psychologists in the US are white. A white provider can certainly treat a person of color, but be biased, culturally insensitive, and engage in micro-aggressions even if they have the best intentions. A survey of 635 behavior therapists revealed that only 30% of respondents received any graduate training that addressed cultural competence, 3% reported that the topic was a degree emphasis, and 25% reported no training at all. Ethnic minorities are the least likely to seek mental and behavioral healthcare. curaJOY is committed to making every user feel safe and comfortable by matching them with a virtual therapist who speaks their language and comes from their culture.
Context of Care and Advocacy
Sometimes the packaging/framing matters a LOT!
Stigma is a major barrier to seeking and receiving mental/behavioral health treatment, and certain cultures carry higher levels of stigma than others. Many ethnic minorities believe seeking help is shameful, selfish, or unnecessary. This belief is especially common in Asian communities. curaJOY is led and driven by people from the communities we serve.
curaJOY normalizes behavioral and mental health with a growth-oriented, positive, proactive approach that focuses on delivering the most amount of direct benefits to our communities. Our deep understanding of the diverse populations we serve motivated our avoidance of terms like mental health, learning disabilities, and other triggering terms that raise barriers to care.
Collaborate
curaJOY needs partners to reduce behavioral healthcare inequity. Your organization can help by offering Quest Depot to your clients. Quest Depot not only generates valuable clinical data but provides an additional layer of support for children and parents who need it – whether they are on your waitlist or current clients. Quest Depot augments the reach of your existing staff, saves time, reduces overhead, and automates portions of your FBAs. Please join us on our quest to deliver equitable, accessible, inclusive behavioral healthcare to people regardless of language, ethnicity, or ability to pay.
Fund
We seek practical root-cause change to behavioral healthcare inequity by availing basic behavioral health support through scalable digital delivery. Our new program, Quest Depot, for example, makes Applied Behavior Analysis available to regions in the world without such infrastructure and expertise.
We cannot do this alone. We need your help.
Join our movement to elevate behavioral health inequity. We are all connected in this world. Rise by lifting others.